Before Callous Comics (Pre-1996)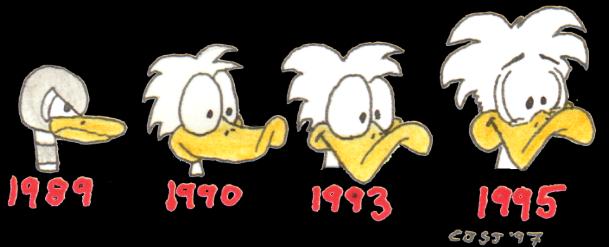 The evolution of Cal Duck

Before there was even Callous Comics, there was the duck. The signature Anatidae of the series, Cal Duck, was first drawn as Dan "The Daring" Duck as early as 1989 in a series of doodles heavily inspired by the art of Sergio Aragones. These drawings showed Dan as a daredevil of sorts.
In 1990, after a short study in the art of Jim Davis, Dan the Duck was redesigned. In 1993, he was first published in the high school paper Counterpoint in the comic strip series Adspoof, which would spoof local television commercials. Later on he would be in several high school situation comedy comic strips with other animal characters, such as Sal Salamander (a precursor to the current Coco Komodo). Dan began to wear his plaid flannel shirt around 1993-1994, coinciding with the growing popularity of grunge music at the time.

In 1995, Dan the Duck was redesigned again after the realization that he appeared too similar to Jim Davis' Wade Duck. This time, inspired somewhat by the anime series Nintama Rantaro and Dragon Ball Z, Dan the Duck had a more billowing, angular "hairstyle" and "bracketed" eyes.
Callous Comics Begins!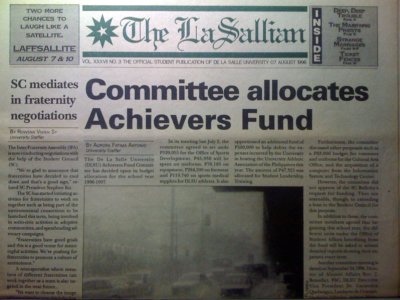 The August 7, 1996 issue of The LaSallian, where the first published Callous comic strip appeared.
Callous first appeared on August 7, 1996 in the university student publication, The LaSallian (wiki) where it had a regular run until 1999. The early comic strips varied in theme from college humor and situation-comedy to advertisement spoofs. The first comic strip also featured an early rendition of Rianne Nicah who would sporadically appear in the series as a minor recurring character, usually sporting her signature striped shirt.


Rianne Nicah as depicted in Callous comic strips from 1996-1999
Dan the Duck was then renamed Cal Duck ("Cal" from the word, "Callous") to reflect his new designation as series mascot. Initially only appearing in the comic strip title frames he eventually also starred in the single-panel cartoons.

Callous title frames featured Cal Duck in various poses and situations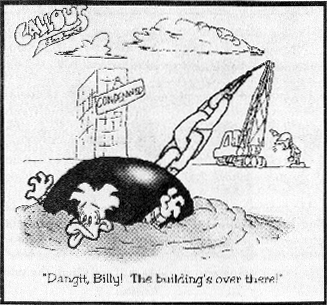 The Callous single-panel cartoons usually featured Cal Duck in an unfortunate situation.
Since 1997, Callous had been online in its own official website which archived the printed comics.

The Logbook Wars
The artists of The LaSallian would pit their respective characters in mortal combat within their staff logbook in what was called the "Logbook Wars". Cal Duck would be a prominent character in these battles as he was nigh-invulnerable with incredible powers such as power blasts, rapid healing, and the ability to reattach severed limbs. Alongside him would be early renditions of Mallard Duck, Ling Duck, and Master Kalus, all with similar powers.

Awards / Honors Received
During the series' regular run in The LaSallian, it had been a recipient of several of its Silver Quill awards. The Silver Quill is "an annual awarding ceremony that gives credit and recognition to The LaSallian's talented writers and varied practitioners who have paved their way to journalistic merit and excellence."
1996-1997 - Best Art Strip
1997-1998 - Best Comic Strip, Best Single-Panel Cartoon
1998-1999 - 1st Runner-up for Best Comic Strip
It was also a longtime feature in the home page of the now-defunct Filipino comic strip website
komiks.com
.
Medical School

In 1999, series creator Carlo Jose San Juan entered medical school but would contribute a few comic strips to The LaSallian's comic page. The last Callous comic strip in The LaSallian was published in 2000.
In 2001, Medyaryo, a medical student publication, was founded and a Callous spin-off series, Callous: Quacks, was born. Recurring character Rianne Nicah was promoted to series protagonist and Cal Duck was revamped to be incorporated into the comic's continuity and canon. Callous: Quacks was either presented as a comic strip or full-page long form comics.

Guardian Ducks
San Juan sought advice from friend and comic-enthusiast Dr. Andrei Avenido on how to market Cal Duck. His suggestion was to make him a more "Yoda-like" character as opposed to the typical unlucky cartoon duck that he had been so far.
After months of contemplation along with the opportunity to start a new series with Medyaryo, San Juan introduced the concept of the Guardian Duck with Callous: Quacks.
Callous: Quacks
In the spin-off, Rianne had graduated from college and entered medical school. While there she encountered a walking, talking duck wearing a plaid flannel shirt named Cal Duck who introduced himself as her Guardian Duck. The series focused heavily on Rianne's self-improvement and personal discovery with Cal Duck as a guide, a theme which persists even to the current series.
During this run, Decoy Duck was designed but never published.

Unfortunately, San Juan has no saved copies of his work with Medyaryo, whether printed or digital. The limited print run has also made these very very rare and hard to find.
Hiatus
The series was put on hiatus from 2004-2008. During this time, San Juan had earned his medical degree, gotten married, and became a father. Only two comic strips were produced during this period in attempts to restart the series but circumstances at the time were not favorable.

CallousComics.com


In August 2009, the Callous website was updated, upgraded, and brought to a new hosting service. Because of this and of the series' 13th year anniversary, San Juan started producing comic strips for daily online publication. Initially this was only intended to be done for a limited time but it has since continued to run regularly. The cast was expanded significantly and the backstory of the Guardian Ducks was further explored.

In August 2010, the first printed comic compilation of Callous comic strips entitled, "Callous - the Comic Strip Series: Chocolate Chip Wishes and Caffeine Dreams" was published and first sold at the 2010 Metro Comic Con.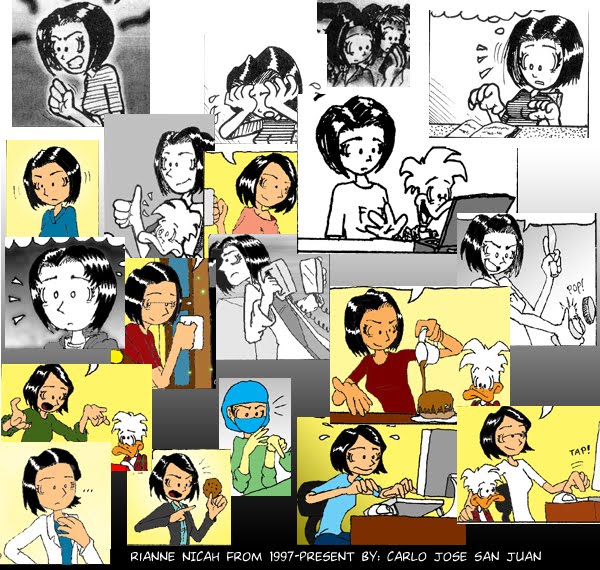 Self-Publishing / Print

There are currently four self-published Callous Comics books:
Callous: The Comic Strip Series - Chocolate Chip Wishes and Caffeine Dreams
Callous Comics - The Land of the Guardians
Callous Comics - Take Two Spoonfuls of the Sunny Side!
Callous Comics - On Lighter Dreams
Callous Comics also appears in the following books:
Indies Maximus

Webcomics: What's Cooking?
Komiks All-Star
Manila Bulletin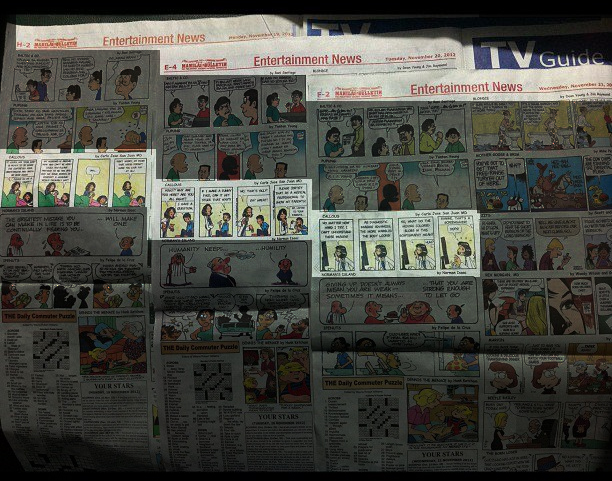 Since September 2012, Callous began appearing in the comics section of the Manila Bulletin.