October 9, 2011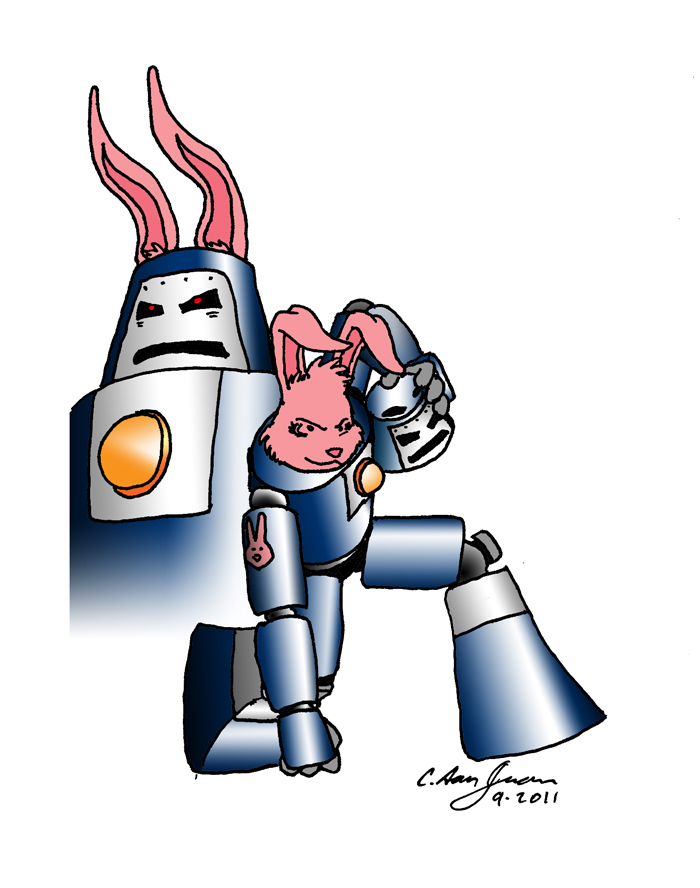 Magbakalan na!
This week Amami Bunny costume plays as
Boy Bakal
!
Boy Bakal
(literally, "Iron Boy" in Filipino) is the story of Rayan Keen, a 10-year old boy who was kidnapped one day by a cannibal and built a powered suit of armor to escape his captor. He then kept this armored suit to fight evil as a superhero!
You can't be blamed for finding all this somewhat... familiar. If you swear that you've seen the armor design somewhere before you're not alone.
Boy Bakal's
creator, Olrac Valenzuela, started this series as a spoof of
Iron Man
. However, his comic quickly gained a following due to its gloriously juvenile humor and quirky villains (my favorite is a hip-hop clad magic jewel brandishing bad guy who speaks in a version of SMS-text spelling called "Jejemon") and has taken a life all its own.
I first met Olrac in the 2010 Metro Comic Con and we've been good friends since. I'm obviously a fan of his comic. I've even written a guest comic I have yet to finish drawing. There's just something about the jokes that makes me burst out laughing! In a way, it reminds me of the silly jokes my friends and I used to throw around back in high school. Boy Bakal is now an instantly recognizable character in the recent pantheon of Filipino indie comics.
Keep up the great work, Olrac!
Posted by Carlo Jose San Juan, MD.